Winter Beach Profile - Environmental Systems
Sherry Martinez
Wednesday, January 18, 2017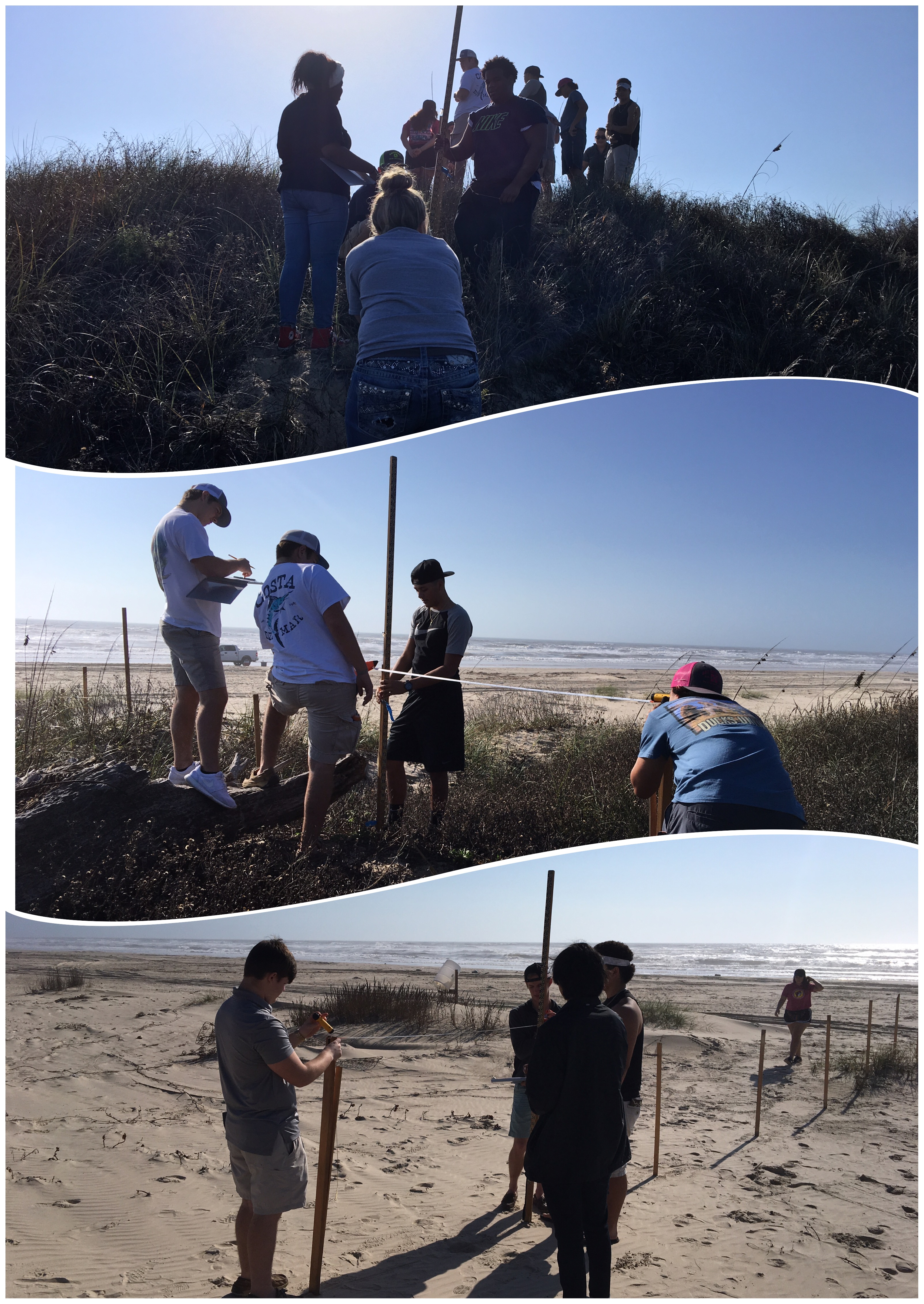 On January 12, 2017 students from Mrs. Martinez's Environmental Systems class completed the Winter Profile of Matagorda Beach at 3-mile cut.
Each year, students work in partnership with the Bureau of Economic Geology (BEG) and the Lower Colorado River Association (LCRA) to complete three surveys of the beach(Fall, Winter, and Spring). The survey focuses on profiling the beach from a fixed point located behind the first line of dunes at 3-mile cut all the way to the wet/dry line of the shoreline, perform measurements on wind speed and direction and how the wind correlates to the speed and direction of the waves, identify the number of longshore bars (sand bars) by examining the number of breakers in the waves, along with using GPS to map the size and shape of the shore by walking the wet/dry line up to the vegetation line in a specified area. The information collected (Fall, Winter, and Spring) is published in an annual report by the BEG.
On the latest trip, students had a unique learning opportunity. While walking from beach access road to 3-mile cut the students came across a decomposing dolphin. There was a discussion at the time about how you can tell the difference between a dolphin or a porpoise. Also, students were able to identify that the dolphin had to already be in a weakened state (sick or old) prior to the shark bites that it sustained.
In the classroom, there was a post-discussion about what do you when stumble across a large marine mammal that is either stranded or dead using the "dolphin and whale 911" app that will give the exact GPS coordinates for you (both latitude and longitude), and the marine mammal protection act that prohibits the taking of any parts of the mammal. Mrs. Martinez followed up with the LCRA to ensure that dead dolphin had been reported to the proper authorities to be collected.
Visit the NOAA website to check out free apps for both android and iphone users that can be used to report stranded or dead marine mammals. The app will give exact coordinates if your phone GPS is turned on plus you can submit a photo of the marine mammal.