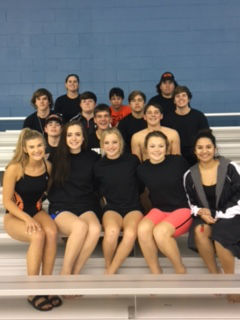 Swim District Meet Results
Sherry Martinez
Monday, January 23, 2017
ALL LEOPARD SWIMMERS ADVANCE TO REGIONAL MEET
The Van Vleck High School Swim team traveled to Victoria to compete in the District 27 5-A UIL Championship meet on January 19th and 20th. District 27 has seven teams that compete for the top six places to advance to the regional meet that will be held in Rosenberg on February 3rd and 4th. Teams from Bay City, Columbus, Van Vleck, Wharton, Victoria East, and Victoria West all vied for top spots. All 12 Leopard swimmers will advance to the regional meet. The team consist of Tanner Casey (9th grade), Joshua DeLaRosa (9), William Galbreath (12), Logan Hood (12), Kason Klump (12), Alyssa Lopez (11), Lance Nunley (9), Madison O'Neal (12), Mehgan Orsak (12), Tanner Rawlings (10), Garrett Ros (9), and Meagan Schrader (12). Shelly Orsak is their coach. Coach Brandon Krushall and parent Teri Hood assisted with timing.
The competition began Thursday with the diving events. This is the first year Van Vleck has entered divers into competition. While a total of six athletes explored the sport over the season that started in September, the team took two divers to the competition with 11 dives. Mehgan Orsak took the gold for the girls team with a final score of 243.45 points and Joshua DeLaRosa brought home the Silver with a score of 203.00 points.
The swimming events took place Friday and began with an Olympic style parade of athletes in front of parents and other spectators. The parade was followed by special recognition of the senior athletes who had an introduction read while proceeding down a line of head swim coaches who wished them well on their future endeavors. Van Vleck has six seniors: William Galbreath, Logan Hood, Kason Klump, Madison O'Neal, Mehgan Orsak, and Mehgan Schrader. Academic All-District Athletes were also recognized. These are students who have maintained a grade point average of 90 or higher for the first semester of the 2016-17 school year. Students earning these honors were: Tanner Casey, William Galbreath, Kason Klump, Madison O'Neal, Mehgan Orsak, Meagan Schrader, and Saundie Franz, the team's manager.
The Lady Leopards started the team off with a sixth place finish with a time of 2:32.10 for the 200 yard Medley Relay with Lopez swimming backstroke, Schrader breastroke, Orsak butterfly, and O'Neal finished out the relay on freestyle. The girls also swam the 200 Freestyle relay and clawed their way to a 6th place finish with a time of 2:16.19, shaving more than two seconds off their seed time.
The boys earned sixth place as well on the 200 yard Medley Relay with a time of 2:28.00 with Galbreath swimming backstroke, Nunley breastroke, Ros butterfly, Klump freestyle. Another sixth place was earned by the boys on the 200 yard Freestyle Relay with a time of 2:12.80 improving their time by more than four seconds and was swam by Ros, Hood, Rawlings, and Klump. The boys finished their competition with a fourth place finish in the 400 yard Freestyle Relay with a time of 5:33.05 swam by Hood, DeLaRosa, Casey, and Nunley.
The following swimmers will advance for individual events: Lopez 500 yard Freestyle with a time of 8:36.10; Nunley 200 yard Freestyle 2:54.48, 500 Freestyle 8:20.27; Orsak 100 Butterfly 1:17.77; Rawlings 200 yard Individual Medley 4.10.81; Ros 200 yard Individual Medley 3:47.33. Meagan Schrader also earned an eighth place ribbon in the 100 yard Breaststroke with a time of 1:39.48.
The Leopard Swim team also earned special recognition with Mehgan Orsak receiving the District Female Diver of the Meet and Coach Orsak being recognized as Male and Female District Diving Coach of the meet. Team MVP's for most points scored are Mehgan Orsak with 26 points and Lance Nunley with 20 points. Overall, the girls team earned 7th place with 31 points and the boys secured 5th place with 31 points.
Weather conditions made this meet challenging by causing a delay in competition of over two hours due to lighting. These athletes rose to the challenge and represented their teams well. The regional meet will be held in Rosenberg at the LCISD Natatorium with preliminary events starting on Friday, February 3rd and concluding on Saturday, February 4th with finals. The top three places in each event will advance to the State Swim Meet to be held in Austin on February 10th and 11th.