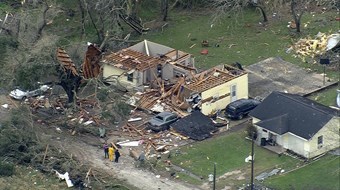 Tornado in Van Vleck Today
John O'Brien
Tuesday, February 14, 2017
Dear Families and Friends of Van Vleck ISD:
As you are aware, a tornado came through Van Vleck this morning around 8:40 am, the National Weather Service has confirmed.
The EF1 storm's destructive path tore through several homes and structures in our area and did quite a bit of damage to our baseball fields as well as a small amount of damage to O.H. Herman Middle School. We did our best today to maintain a normal schedule despite not having electricity some of the day. Power and all services have been returned to all buildings as of 2:00 pm this afternoon.
Approximately 15 homes and various other structures in the Van Vleck area have been affected. We are saddened to learn that a few of our students lost their homes and we are working with the Matagorda County Emergency Management team to help them receive assistance.
I want to commend all personnel in our district for their swift action and securing the safety of all students and staff.
It is by the grace of God that all of our students and staff were unharmed. Please continue to keep our small community in your prayers.
Classes will continue as normal tomorrow.
John R. O'Brien - Superintendent of Schools