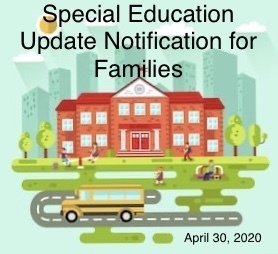 Special Education Update Notification for Families
VVISD
Thursday, April 30, 2020
Van Vleck Independent School District is ready, willing, and able to identify and serve all children with disabilities residing within its jurisdiction who are in need of special education and related services. A parent or guardian has the right to request a special education evaluation at any time.
VVISD is responsible for identifying, locating, and evaluating children from birth through age 21, with known or suspected disabilities who reside in and/or attend school within the school district boundaries to determine whether a need for special education and related services exist.
Parent involvement and agreement is obtained prior to any further action. Information is confidential and the privacy of the child and parents is protected. Should an assessment be required, it is provided at no cost to the parent. For more information concerning eligibility criteria and the referral process, contact the Van Vleck ISD Federal Programs Department Contact, Christie Dement at 979-429-0484.
For More information, click here for the Special Education Update in English.
El Distrito Escolar Independiente Van Vleck está listo, dispuesto y es capaz de identificar y servir a todos los niños con discapacidades que residen dentro de su jurisdicción y que necesitan educación especial y servicios relacionados. Un padre o tutor tiene el derecho de solicitar una evaluación de educación especial en cualquier momento
VVISD es responsable de identificar, localizar y evaluar a los niños desde el nacimiento hasta los 21 años, con discapacidades conocidas o sospechadas que residen y / o asisten a la escuela dentro de los límites del distrito escolar para determinar si existe la necesidad de educación especial y servicios relacionados.
La participación y el acuerdo de los padres se obtienen antes de cualquier otra acción. La información es confidencial y la privacidad del niño y sus padres está protegida. Si se requiere una evaluación, se proporciona sin costo para los padres. Para obtener más información sobre los criterios de elegibilidad y el proceso de referencia, comuníquese con el Contacto del Departamento de Programas Federales de Van Vleck ISD, Christie Dement al 979-429-0484.
Para obtener más información, haga clic aquí para obtener la Actualización de educación especial en Español.