EDIT MAIN
In the event of an emergency, VVISD will:
Send phone/text and/or email alerts to parents via SchoolMessenger call system (Always keep your contact information up-to-date with your campus)
VVISD Facebook & Twitter pages
Post updates to www.vvisd.org
STUDENT/PARENT REUNIFICATION
If a campus or our district experiences an emergency, parents may be asked to pick up their children, either from the school site or from a location where students have been relocated during the emergency. Our district utilizes a process called Student/Parent Reunification if this occurs. Student/Parent reunification is the orderly and efficient process of reuniting large numbers of children with their parents/guardians. The process involves three steps as shown in the visual and described below.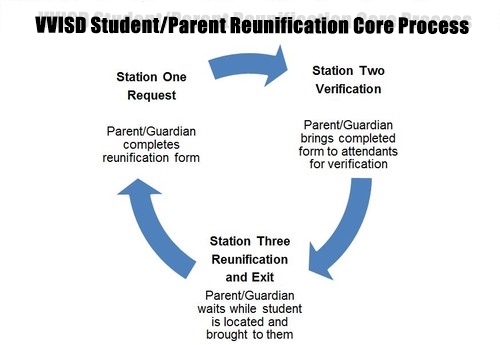 STATION ONE – REQUEST
During this critical phase, parents and guardians will complete a simple, but concise reunification form which will enable school officials to garner important information necessary for student release and accountability. It is important to know that campus staff will only release students to those preauthorized by the parent's consent.
Stage One will take place in an area large enough to accommodate large numbers of parents and guardians, such as a gymnasium or auditorium or a series of smaller rooms for each stage. Writing utensils and tables or clipboards will be available for parents and guardians to use when filling out reunification forms. School personnel in recognizable dress (school shirts, orange safety vests, etc.) will be available to answer questions and guide the process.
Station Two: Verification
At this stage, the parent or guardian will present the completed form from Station One to the clerks at the verification station. The verification clerk will confirm identification and accuracy of the information presented, therefore having identification is critical.
As with Stage One, Stage Two will take place in an area large enough to accommodate large numbers of parents and guardians. For some campuses, Stage Two may take place in the same area as Stage One. Because large numbers of parents and guardians will be present, campuses will organize multiple verification tables and provide the greatest number of school personnel available to assist. Parents should form a single line and move to the first available verification clerk to support the efficiency of the process.
Once verified, the verification clerk will utilize office staff support to locate and request for the release of the student. This may be done by phone, radio, or runner. If runners are utilized, the runner will be given a copy of the approved reunification form to provide the teacher who is supervising the student. The teacher will initial the form and provide it to the student, who will take it to the exit clerk. Teachers supervising students will only release students who have been contacted by the verification clerk/office staff support or presented with the approved reunification form.
STATION THREE – REUNIFICATION AND EXIT
At the completion of Stage Two, parents and guardians will wait for the retrieval of their child. During this phase, campuses may direct parents to another area where the reunification will take place. Once the child has been retrieved, the parent or guardian will retain a copy of the approved reunification form and will be free to take the child.
KEY TO SUCCESS
This process is being shared with parents and guardians in advance so all stakeholders know what to expect in the event of an emergency. Being prepared is the key to success and we thank you for helping us make sure students and parents are reunited as quickly and efficiently as possible in the event of an emergency. Nothing is more important to our staff than the safety of our students.