NEWS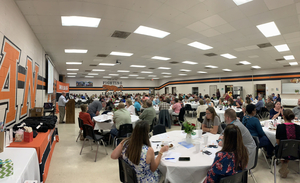 VVISD recently held the 2019 Staff Appreciation Banquet honoring all current employees and past retirees! A great time was had by all as staff enjoyed dinner, fellowship, and door prizes donated by several local businesses and industry partners. We are especially proud of the VVISD staff who were...

VVHS Top Ten - 2019 Photo Contribution - AGG Fotoz - Darve Smith, Owner Madison Woolsey - Valedictorian Kathryn Willy - Salutatorian Sophia Tinus Travis Koliba Elizabeth McElroy Joseph Villanueva Bailey Rion Briahna Hubbard Caleigh Snow Jasmine Hernandez
VV Baseball All-District Selections Coach of the Year: Jacob Cadle MVP: Travis Koliba Newcomer of the Year: Payton Brown 1st Team Pitcher: Kameron Wied 1st Base: Cameran Hudson 3rd Base: Cade Noster Shortstop: Josh Delarosa Outfield: DJ Vargas 2nd Team Pitcher: Gunner...
SEE ALL NEWS
Events